Whaling in Oklahoma started appearing on lists and my Instagram feed shortly after I arrived in Boston. But as the note on my phone continued to grow with restaurants to visit, keeping up with the "must-see" spots became increasingly difficult. Most people probably don't scroll through their open table apps just to see what's out there like I do, but when I came across a Friday night reservation in the South End I decided to act on it.
Typically I'm not a fan of tapas style menus, as I always seem to spend more money this way, so when I looked up the menu the night before I knew what I was getting into. The menu at Whaling puts emphasis on shared plates and fuses asian cuisine with a homestyle cooking flare. This meant that I was also likely going to be stepping out of my comfort zone in terms of dining.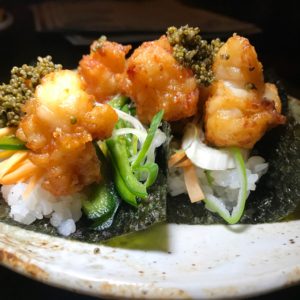 Something I've experienced during my explorations into Korean cuisine are the small plates they serve alongside the dishes often comprised of pickled vegetables. I never know exactly what all of the ingredients are, but they're always pretty good. Based on previous experience, I ordered the pickle plate to start. Still don't know what everything was… but I still ate it (and liked it)!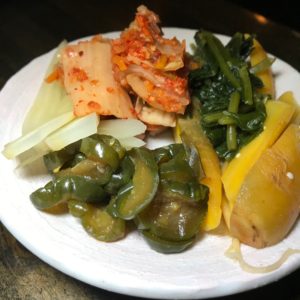 More small plates arrived as the kitchen sent them out. I burned my mouth as I hastily bit into the kabocha squash croquettes — think mozzarella sticks but better– and quelled the pain with the serrano miso paste on the side. Our marinated lobster hand roll plated followed and did not disappoint. Instead of a traditional sushi roll, the hand roll was essentially a sushi taco which I found to be satisfying though slightly complicated to eat.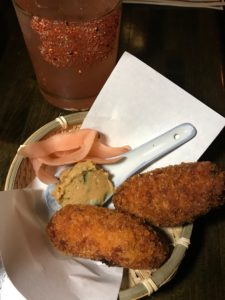 I can't remember now where I read it, but something somewhere told me that the shiitake rice bowl was a must try. Shiitake mushrooms, miso, rolled omelette, and onion on a bed of rice was the exact filling and flavorful dish needed to pull together the small plates. But upon ordering, my waitress mentioned that based on the dishes I had selected, we may still be hungry. So I (sort of) regretfully ordered one more dish.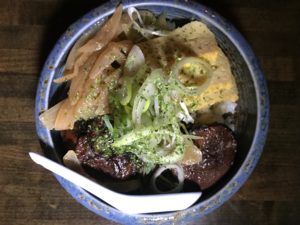 As I watched my bill climb, I also watched as a stunning fried pork cutlet sandwich made it's way to my table. Tender, lightly breaded, and on perfectly toasted bread, I was happy for the final piece of the puzzle.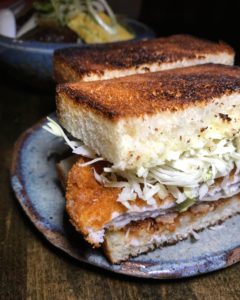 Washing it all down with a one in a melon cocktail, I concluded that the word on the street about Whaling in Oklahoma was true, and that it certainly had earned it's spot on 'the list'.